RV owners who like rally-style camping, that is, parked shoulder-to-shoulder with other rigs, should give serious thought to their generator exhaust. Several "near-miss" incidents of serious health problems with generator-produced carbon monoxide bring this up.
Typically an RVer who needs to run a generator is off in the boondocks somewhere, and not packed in with others like sardines. But dry-camping at rallies puts folks closer together, and the natural air flow that tends to dilute generator exhaust often isn't present. Result, your generator exhaust may drift into your own (or your neighbors') rigs with potentially deadly consequences.
Enter the after-market RV generator exhaust system. One popular commercially produced system is sold under the brand name, "Gen Turi." The concept is this: Your built-in generator exhaust pipe gets a slight extension and turn upward; from there it meets up with an open air space of a few inches, and above that, a much larger pipe sucks the exhaust skyward, and above your rig's roof level.
The promoters of these systems suggest a two-fold benefit: Getting your exhaust high up in the air where it will safely disperse and not infiltrate living spaces and reduced generator noise. The general pulse among users is in agreement that indeed, these systems carry off dangerous exhaust fumes. As to the reducing noise, well, that's a different story. We haven't seen any studies which indicate a real "noise reduction" value. However, even many of those who own Gen Turi and similar systems will tell you the reduction isn't all that significant.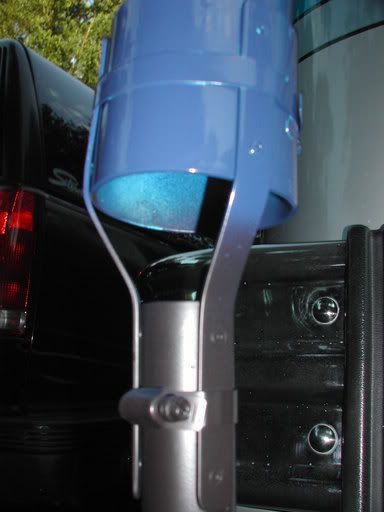 So how much is the price of enhanced safety and neighborliness? If you don't mind waiting a few days you can order a Gen Turi system through Walmart for less than $110 (with free site-to-store shipping). Other enterprising RVers haven't been willing to shell out that much money for something they figured they could "do it themselves." You can read about one such project
here.
With such a system in place you can have an exhausting day and still feel good about it.